Unity in the Gold Country is centrally located in the Whispering Pines Industrial Park area off of Whispering Pines Lane.  It is easily accessed from Highway 49 via the Brunswick exit or the Idaho-Maryland exit.  There is ample on-site and on the street parking.
Our facility is housed in a 6,500 square foot building located at 180 Cambridge Court, off of Whispering Pines Lane.  The building underwent a major remodel in 2008.  It is bright and attractive with new fixtures throughout.  All facilities are handicap accessible and there are no steps in the building.  There is a foyer at the front of the building with a reception area and desk.
MAIN MEETING ROOM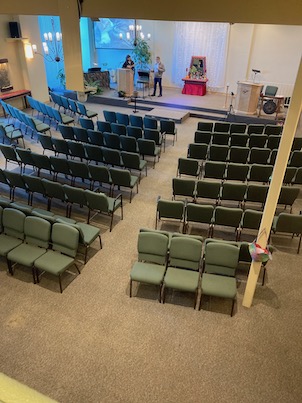 The main meeting room is beautifully appointed and the comfort of our guests is enhanced with soft, yet supportive chairs. The room is monitored by a state-of-the-art air-conditioning system.  It has great acoustics, an excellent sound system, and has multi-media equipment already in place.
The main room can seat 250 people comfortably and has a capacity of 300. There is a raised stage area in the front of the room which allows for great visibility from the main floor. The stage area features its own advanced lighting system. There are two beautifully carved podiums on the stage.  There is s drop-down screen for DVD or Power Point presentations.  The lighting throughout the room is controlled by a sophisticated computerized system that allows for several different settings, accenting different areas at different intensities.  The room can be set up with chairs and circular tables to accommodate 136 people comfortably. 
At the back of the main room is a kitchen facility that allows for food and beverage preparation and serving.  The kitchen has a large refrigerator, stove and commercial sink.
Restrooms are conveniently located just outside the main room.
MAIN ROOM RATES
The main room rents for $50 an hour with basic sound and lights.  There is a reduction in price for half-day and full day use. There is an extra charge for multimedia use.
SMALLER ROOMS
There are five smaller rooms available for rent for those whose needs don't require the main seating area.  These rooms seat from 10-20 people comfortably. The rooms can also be used as break-out rooms for events being held in the main room.  One of the rooms has a TV and Video/DVD player.
The smaller conference room can seat 15 people and has its own refrigerator, sink, and wet-bar area allowing for light refreshments.
The Zeal room can seat 20 people.
SMALLER ROOM RATES
The smaller rooms rent for $30 an hour.